Every 3.2 seconds, one of us, somewhere in the world, is diagnosed with dementia [1]. In the US, the average age of a person living with the condition is 49 years. There was a 200% increase in cases aged 30-64 between 2013-2017.
Maybe the diagnosis has been given to you. Or maybe to someone you love.
The challenges are undeniable.
And so there's a need to do, or use, whatever brings those with dementia and their families joy, quality of life, safety, independence, human connection, or choice.
For the most part, those diagnosed early will have periods of clarity, carry out responsibilities, and may live somewhat independently through the early and mid-stages, and with the help of family or friends.
As the brave and inspiring Wendy Mitchell explains in documenting her own journey with young-onset dementia:
"When people think of dementia, they think of the late stages. They forget that there is a beginning and a middle,"
Technology has rapidly progressed to give us extraordinary options to prolong independence, including those that address many of the early-stage symptoms, such as communicating, remembering appointments and bills, keeping safe at home, and staying healthy.
There's also much to be hopeful for in the years ahead, due to the relentless efforts of medical professionals, researchers, governments, and pharmaceutical companies, as well as those with Dementia willingly participating in trials, and the support and love of families and carers.
In this article, we list the top 15 products to make life easier. To prevent the technology from being outdated, we keep an always up-to-date collection of hundreds of the top products from around the world here.,
At the end of this article, we explain how we independently choose these products and invite you to drop us a note if you have questions or think we can help.
The audience for this article is both the person with the diagnosis themselves and family members or caregivers. For reasons of simplicity, empathy, and respect, we'll assume the reader themselves is in the early stages.
Dementia is a general term used to describe symptoms that impact memory, the performance of daily activities, and communication abilities. Alzheimer's disease is the most common type of dementia. Alzheimer's disease progresses with time and affects memory, language, and thought
"Dementia is quite unlike cancer or heart disease or any of those other conditions where you bargain with God for a cure or even just a bit more time."
Laurie Graham.
So let's make life a bit easier.
Top 15 List
1. Visual Clock & Reminders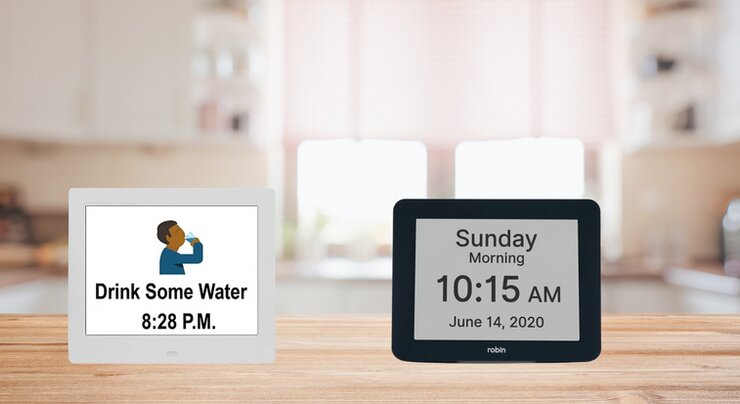 Visual clocks help keep track of the time, day, and date, as people with dementia and Alzheimer's often struggle with tracking the passage of time and reading a clock face. Losing sense of time inevitably leads to confusion, and this, in turn, can lead to anxiety, challenging behavior, anger, or even loss of self.
Another consequence of this may be forgetting to keep appointments, take medication, pay bills, and do what keeps you well and independent.
Why Use It?
To help with confidence, clarity, and maintaining independence.
Top Picks
Robin Premium Clock, Visual Clock, See also Reminder Rosie, Memrabel
Main Feature Decisions
If reminders should be able to be set remotely by others
If an internet connection is required
How many reminders can be set or stored
If reminders are given by alarm, voice prompt, and/or picture
Tips to Use
Set it up in frequently used or high traffic places, such as bed-side, kitchen, or living room
Start with the clock, and add a couple of simple reminders, such as to move, drink water or take medication
Adjust sound levels
Involve others around you so you can incorporate the device as part of daily routines, for example, the habit of placing a post-it note of the time your partner will return from the shop, next to the digital display.
2. Specialist Phones
Phones are important as a way to maintain a connection with others, for help, companionship, and to get jobs done. Devices available include home or mobile devices, and visual or video queues to assist with poor vision, memory, hearing, and the reassurance of facial expressions for non-verbal communication.
"Older adults are at an increased risk for social isolation and loneliness because they are more likely to face factors such as living alone, the loss of family or friends, chronic illness and hearing loss." The decline in hearing and low vision can make interacting with others difficult."
In fact, people of all ages are experiencing social isolation and loneliness, so being able to communicate more easily is rewarding in many directions for you and your family across the generations.
Why Use It
To reduce isolation and frustration, to stay connected to loved ones, and to assist with tasks or needs such as calling the doctor, the pharmacy, the bank or calling for help.
Top Picks
Future Call, Memory Phone, See also 'Seniors' Mobile Phone, Konnekt Video Phone
Main Feature Choices
Home phone or mobile
Assistance with, or compatibility with, hearing and hearing aids
Visual aids such as picture dialing, or flashing lights for incoming calls
Dexterity needs such as big buttons or those that prevent double-pressing
Voice-only or video call capability
Emergency call button
If subscription fees or contracts are required eg a mobile provider or rented video phone
Tips to Use
Sit down with your family or those closest to get acquainted with the features
Set it up with contact numbers and pictures/photos
Have accessories such as cases, straps, or side tables with chargers that make it easy to reach, use or carry
Adjust the sound levels
Start a habit of you or your family calling each other to get used to talking and carrying it, and then continue to check in often
There are guides for 'Communicating with People with Dementia'
3. Medication Dispensers
Medication dispensers help to store, organize and give reminders for medication to be taken. They most often comprise a storage place for tablets, settings regarding dosage times or reminders, and a power source such as a battery.
Features can include reminders, alerts if medication is not taken, or safe locks to prevent the medication from being taken at the wrong times or quantities.
Why Use It
To assist the right dose and medication times to be adhered to, preventing the adverse effects of missing medication, either directly to your health, or as a consequence such as falls, etc.
Top Picks
Live Fine, MedCenter See also Pocket Medication Pillbox, Medisafe Pill Reminder App
Main Feature Choices
The number of tablets held
The duration eg. day or month patterns, and
If you want a 3rd party notified of medication not taken
4. SOS Alarms, Falls & Trackers
These devices are a way of calling for help (SOS) when needed, detecting falls, being found, or being able to locate someone if there's cause for worry or concern, for everyone's benefit. 6 in 10 people with dementia will wander.
Why Use It
To give peace of mind to all concerned that help can be called, falls can be detected and loved ones can be located. Whilst not failsafe, often independence is taken away because of the potential that something will go wrong, the time taken, or the consequences of responding too late.
Top Picks
AngelSense, Tracki GPS Locator, Suresafe, Apple Airtag, Wallet See also Jiobit (USA), Keytag (UK), GPS Sole (pending release in some countries)
Main Feature Choices
If a service provider will monitor the device or family will do so
Battery life
Features that increase use such as wrist straps, neck straps, or waterproofing
Whether the devices will willingly be carried (or jettisoned) or need to be incorporated on keys, walking frames, watches, cars or clothing, etc. (In which case please seek permission from the person being tracked wherever possible).
Tips to Use
Discuss with your friends and family, what you're doing to keep safe
Setup numbers for contacts and emergency dialing
Develop a routine to incorporate the device, for example putting it on when you rise from bed (as nobody plans for a fall and the likelihood of doing so is fairly high)
Always use with respect and seek or give written permission to be tracked where possible. The offer of mutual tracking each other may be received well.
5. Alexa Assistant & Smart Plugs
Voice assistants or 'home hubs' provide assistance just by asking, such as making voice and video calls, the ability for your family to drop into the room, detect movement, and to automate or voice activate lights and appliances.
It can also help you get help, information, or be entertained. You can perform a range of skills like banking, calling an Uber, booking an appointment, asking for the weather, checking appointments, or ordering food, just by asking.
Amazon has invested significantly in this area including the Alexa Care Hub capability for helping families with the care of loved ones remotely.
Why Use It
To make life easier, to be more informed, and to be closer to family.
"Mom lives near my sister and is 2 hours away so visiting is always a bit of a project. I thought I'd try setting Amazon's ECHO-SHOW next to her rocking chair. I can now "Drop-in" on her every day and share some face time with her, visit with her granddaughter, see the dog whom she LOVES, and just make her smile.
The beauty is that there is no interaction needed on her end, the Caregivers and my Mom love this setup. The fact that I can use my phone from anywhere and actually see and talk to Mom, and show her things is hugely entertaining and comforting for Mom, and everyone in the family.
Top Picks
Amazon Echo Show 10", Amazon Echo Show 15", and any wifi-enabled smart plug. See also Google Nest Hub Max
Main Feature Choices
Screen size
A stand or bracket may add value, to automatically track your face for example as you move about in the kitchen
There are often packages available from Amazon & Google, combining a home hub with appliance and tv plugs, cameras and video doorbells.
Tips to Use
Place it in a well-used space, such as the kitchen or living room
You'll need a smartphone and app to set up the device and any key accounts (like Spotify or other subscriptions), though you don't need a smartphone for everyday operation
Add additional users and phone numbers to be able to call people or enable them to check if there's been a movement
Set up standing reminders
Plug the wifi plugs into any lamps, fans, or other appliances, and connect and name them through the [Amazon or Google] app. You can also link doorbells or thousands of other smarthome products
Set up routines, or collections of commands. For example "Good night" can turn off lights, on lamps, send a message to the family you're off to bed, and announce tomorrow's appointments and weather
Have someone in your family write down a list of the most helpful questions or commands to ask the voice assistant, and leave these laminated 'flash cards' around home. Eg. To call, say..." Alexa, call Jenny", "Alexa, what day is it?", "Listen to quiet music", "Tell me the news", and "Turn on the lights".
6. Sleep and Oxygen
Sleep tracking devices such as a mat or a wearable device can non-invasively, continually measure levels such as sleep hours, heart rate, blood oxygen saturation, movement, or apnea, which can give key insights into what might be affecting demeanor, alertness, or health. Always consult your doctor and follow their advice.
Why Use It
To understand what affects your health, and share it with a doctor or specialist to help diagnose, treat, or understand what's going on. Few of us operate well when these measures are not in a reasonable range, Alarms can also be set to wake you to turn over, or to alert caregivers.
Top Picks
Withings Sleep Mat, Oxylink Wearable with remote linker monitoring capability
Main Feature Choices
If it should be passive like a sleep mat, or be worn like a ring or bracelet
If you want remote monitoring in near real-time, for example, if there's a concern during illness or following a hospital discharge, or are happy to review the data subsequently
Tips to Use
Usually, a smartphone is required to register the device, however, the data can often be transferred from the product to a phone, later whenever the connectivity resumes, without any assistance (ie. the phone auto connects with the device when they are near to each other).
Consider how you want to use the data, for example, to review trends yourself, share the report with the doctor, or have a notification or alert triggered. These should not be considered life-saving devices as they may fail, or be left unworn or uncharged. Always consult your doctor.
7. Wearables for Health & Activity Tracking
Wearables like smartwatches have the benefit of tracking health-related measures throughout the day and night, enabling a range of insights to be captured, and viewed holistically, such as heart rate, sleep, breathing, and blood oxygen levels, or for example taking an ECG, This allows history to be graphed, sometimes providing a picture not possible otherwise. They may have the added benefit of GPS tracking and fall detection.
Why Use It
To keep track of activity and key health indicators; to share with family or health professionals to assist in health decisions; to motivate exercise, and to prevent further health complications. 91% of people with dementia have at least one other condition or co-morbidity, and nearly 30% have 4 or more co-morbidities.
Top Picks
Fitbit Sense, Fitbit Charge, Apple Watch, See also Scanwatch, Amazfit BIP
Main Feature Choices
The specific health features of interest eg. activity, blood oxygen or ECG
Level of accuracy required (eg. relative heart rate trends or clinical grade)
The number of additional functions required like GPS tracking, calling, etc
If the device should contain a 'sim' card to connect to calling services
Battery life per charge (eg. 12 hours or 30 days)
Watch face (for example digital or analog - as those with dementia may struggle with reading an analog clock face)
Tips to Use
Set up the device according to instructions, for example, height, and weight
Share with family or your doctor to help with the overall picture of your health
Ask a friend, partner, or carer to check the device is kept charged if you need that
Set up sharing automatically, or choose who can see your health data
8. Heart Health & Blood Pressure
Blood pressure monitors can be used to test, measure and store heart health, which may help to understand, predict or reduce incidents. Testing might be done either routinely at the end of the day; when there is a concern such as fatigue or discomfort; or during visits by family or carers to help build a picture over time.
Reduced heart health can be a pre-condition or cause of vascular dementia, the second most common type of dementia after Alzheimer's.
Risk factors for vascular dementia include risk factors for the conditions associated with vascular dementia, such as heart disease, stroke, high blood pressure, and atrial fibrillation (fast and irregular rate of the upper 2 heart chambers).
Specialists anticipate an increase in vascular dementia diagnosis due to an aging population and increased incidence of heart disease.
Why Use It
To gain insight into heart health, to help prevent incidents, and to share with others for improved understanding and action.
Top Picks
AirBP Blood Pressure Monitor, Omron Upper Arm Blood Pressure Monitor, Withings BPM Core, See also iHealth Wireless Wrist Blood Pressure Monitor
Main Feature Choices
Size, portability, and ease of use for the person who will be using it most
Wrist or upper arm band
Tracking of history for a single user or multiple users
Whether a smartphone is needed or available, or you'd like it kept on the blood pressure device itself
The ease of sharing and interpreting the output. Always take advice from your doctors who will know what's best for your situation.
Tips to Use
Follow the instructions required, and involve your family, carers, and health professionals in testing, sharing, or interpreting the data and any actions required.
Your family may choose to develop routines of testing during visits or request a carer to do so. A reminder could also be set on a visual clock or another reminder system.
9. Home Sensors & Movement Detection
There are many excellent, reliable, smarthome products and sensors that can assist in detecting movement or lack of movement, water leaks, carbon monoxide, smoke and air quality, and open doors and windows. These can trigger notifications, alerts, alarms, or actions like turning off taps, and are helpful in a range of scenarios.
Why Use It
To give peace of mind to you and your family, helping maintain independence, prevent incidents and reduce risk because there are checks replacing the uncertainty that causes loved ones to worry or to need to drive over.
Top Picks
Philips Movement Detection, Philips Outdoor Movement Detection, Eve Smart Home Sensors, Sensor lights, Ecobee Smart Sensors (see more options at the end of this article)
Main Feature Choices
Depending on what you'd like to keep track of, options include door and window sensors, smoke, carbon monoxide, water leaks, and movement
This may be easier with the same brand, but if not there's likely no worry, as they can be connected to one of the main ecosystems ('standards') of managing smarthome products
It's best to connect all devices to one app or dashboard, to make it easier to manage - so see if this is possible eg. Apple Homekit, or Google Home
For some devices, there may be an optional subscription service, eg. to monitor smoke alarms if you wish to
Tips to Use
Get the family together to set up the devices, connect them to a central app, and give access to those who can help you or will respond.
Tailor the product to set up the parameters you care about, such as only detecting movement at night, or lack of movement in the morning hours when you would usually be awake by.
Agree on who will keep an eye on the alerts, or call each other, and how to get into the home if you need to in an emergency, such as a lockbox or smart lock.
Make a reminder to check batteries or upgrade software from time to time
10. Digital Thermometer & Otoscope
Two simple devices that are good for general health, are a digital thermometer for measuring temperature, and an otoscope to help with checking for ear and nose blockages - via a slimline camera. Hearing loss, ear wax, and blockages are closely entwined with symptoms of dementia, and cognitive decline, affecting nearly two-thirds of people in nursing homes.
Why Use It
It may help in supporting decisions, for you or those around you, for example, when to seek help.
Top Picks
Wellue Forehead & Ear Infrared Thermometer, Omron Digital Forehead Thermometer, Teslong Otoscope
Main Feature Choices
Ease of use is the main criteria
If the digital thermometer should store the history (and if so, whether for one or more users).
For an otoscope, consider if the device has its own camera, or check compatibility with the device you have, for example, an iPhone, iPad, Android device, or computer.
11. Camera, Video Doorbell & Smart Lock
This set of products, depending on personal needs and home setup, is invaluable in seeing who's at the gate or door, remotely opening it, talking with them, detecting wandering, or as a security measure.
Use cases and features might be noticing you've left home at an unexpected time or capturing how long you've been out if missing, helping with lost keys or a neighbor checking up by remotely opening the door if needed, the family having oversight over visiting carers and services, ease for you to see who's at the door instead of rushing to answer it or alerting the family to unwanted visitors at night.
Why Use It
Multiple benefits centered around you, friends, and family having peace of mind and being able to support you to be safe from wherever they are.
Top Picks
Arlo, Ring Video Doorbell, Google Nest, Eufy Cameras & Doorbell, Yale Smart Door Lock, August Smart Door Lock
Main Feature Choices
For doorbells and cameras, whether wired or wireless
Whether external cameras have a sim embedded so it can be moved anywhere and doesn't need wifi
For smart door locks, choose a lock that suits your preferences and door type (such as fingerprint, key option, code, and with or without a door handle).
What the backup is if this doesn't work eg. batteries are long-lasting though do require changing or charging from time to time.
Tips to Use
Set them up according to the instructions. For the most part, this is a simple process and doesn't require professional help.
Run through how to perform the main tasks, eg. check the camera or open the door.
Check if you need wifi or have wifi, or will need a subscription service as part of the product.
Set alerts and notifications so the family can monitor exceptions as agreed.
Family members will need to install the app(s) on their own smartphones.
Decide who in the family will check battery levels, and charge or update the software periodically.
12. Mobility Aids
Mobility aids can help with getting out and about locally, especially if a driver's license has been given up. Product choices include walking frames, fat-tired seniors' trike-bikes, and scooters.
Why Use It
To maintain fitness and connection with the community, especially in the early stages, which may be used alone or with a companion, and paired with a GPS tracker or personal SOS alarm.
Top Picks
Adult Electric Fat Tired Folding Trike, Travel Scoot Scooter, Walking Frame 'Rollator', Wheelchair Bike (for two)
Main Feature Choices
Choose according to your dexterity and balance, as dementia and Alzheimer's can be early-onset, and fitness may be quite ok.
Consider the size, portability, carry capacity of storage or baskets, and for scooters, the distance traveled per battery charge.
The speed settings can vary, and on some electric bikes and trikes, a maximum speed can be set.
Always wear a helmet and have appropriate lights and safety measures.
Tips to Use
Agree with your family about what your need is, what your capability is, whether it's to be used with a companion, keys removed for safety, or it's fine to use alone.
13. Entertainment, Information & Tasks
The three main suggestions here are voice assistants, tablets, and simplified music players/radios. These can assist with calm, enjoyment, entertainment, and productivity such as booking appointments, paying bills, learning, etc. Games for mental fitness and memory are widely available on voice assistants and tablets.
Why Use It
Helps with enjoyment, and a sense of staying connected to friends, family, support groups, news, and relaxation with mental health benefits.
Top Picks
Alexa Dot (no screen), Alexa Show (screen), Google Nest Hub Max (screen), Google Nest Mini (no screen), Simplified Dementia Radio , Grandpad Simplified 'Seniors' Tablet
Main Feature Choices
A home hub or voice assistant like Amazon Alexa or Google Nest Hub Max can be with or without a screen, we'd suggest with a screen.
Specialist Tablets can be purchased outright or rented as part of a monthly subscription including support.
Tips to Use
Consider what you want to achieve, for example cooking and recipes, music to listen to, new video's to watch, communities to contribute to or receive support, or whether you want to write a journal, pay bills, or work.
Once you've listed what's important or fun, start with the first few and get help setting them up. Mostly these will be available 'out of the box'.
Keep a brief list on paper, of what options you have to do things such as connect with friends or favorite hobby sites or communities, to jog your memory.
You may wish to share what you're learning or helping others with, to stimulate great conversations with your friends and family.
14. Photos & Faces
Dementia and Alzheimer's will rob people of their memories, however, it's possible to bring a feeling of joy and warmth, surrounding ourselves with those we love.
There are three good product types to consider.
i) A new generation of digital photo frames that allows family across generations to share old memories or new daily adventures, including captions
ii) Lightweight photo walls can be ordered from a phone or computer, with an all-in-one service that prints lightweight frames and photos that can be stuck on a wall, and relocated as many times as needed for example from a hallway to a bedroom or care facility.
iii) Digital memory books, which can contain a life story, with photos, videos, captions, and music to flip through.
Why Use It
To remember how much you are loved, to label familiar (or not so familiar anymore faces), and to bring a human warmth and connection for carers and visitors to your home, who feel like they know you. Seeing photos, they will feel you are a loved, treasured sister, brother, parent, grandparent, and something of your adventures, talents, and gift to the world.
Having photos available enables carers to walk you through faces should you forget who's there, and put a face to who in the family they might be talking with.
Top Picks
Connected Digital Frame, Nix Touch Frame, Mixtiles, Digital Memory Book, or See also services like Flipbuilder or any Photobook with text captions. There are some many templates around to help you create a life story, such as here and here.
Main Feature Choices
A digital frame can be good for connecting across generations, and for the person with early stages or for their family or carers that may otherwise become isolated in helping care for you.
If moving pictures become confusing, therefore fixed photos or a digital memory book (for yourself or companions to flip and talk through with prompts of key times, places, and people)
15. VR
Virtual Reality enables, through special glasses or a headset, us to experience a real-world-like experience, almost as if we were there.
There are two interesting uses for VR and Dementia.
i) For family members to understand and experience dementia and Alzheimer's
ii) For those with dementia or Alzheimer's to invoke or re-live memories, such as towns they grew up in and may not visit again, or to have new experiences, such as scuba diving, watching or conducting a concert, or watching animals run free across the plains of Africa.
Virtual reality consists of a 'glasses' type headset and the content that you view through the headset.
Why Use It
In the first case, for friends or family surrounding a diagnosis of dementia or Alzheimer's for someone they love, it can have a powerful impact to understand how challenging it is for you or will become. Walking in the shoes of someone carrying this challenge can invoke a new level of patience and empathy.
In the second case, VR experiences have been used to awaken memories of people [see video], bringing emotional and physiological benefits. VR, for example, has delivered positive physiological responses to reduce pain, and stimulate increased immunity during chemotherapy.
Top Picks.
See 3 types of headset suggestions and VR Content Links
Search also Dementia Empathy: VR Content to help understand Dementia
Main Feature Choices
For the lower-cost version, decide if the frames should be cardboard or plastic, and make sure that your phone model fits inside it.
More advanced VR devices have smart capabilities and access the content as part, or downloaded onto the device (like installing an app on a smartphone). They are a mini-computer of sorts
Have headphones inbuilt or will connect your own headphones
True virtual reality allows you to interact with an environment, such as taking a physical step and moving forward in the glasses as if you were there. The broader definition includes 360-degree video, where you can move your head in any direction and look around.
Tips to Use
Make sure you are seated, or that there is someone to help prevent falls due to balance or furniture in the way. Consider individual needs and personalities to determine what's likely to bring the best outcome in your situation.
How We Choose The Products


helloEd is a health technology marketplace, that believes it's time to rethink what's possible for people of all ages, when combining care, and the world's best health, home, and assistive technologies.
Hundreds of millions of people strive to be safe, well, independent and look after those they love. Billions are invested each year in health technology, but it's hard to find out what's possible, what exists if it's good, and how it can be used to get outcomes. Our team, with our own personal stories in this area, wants to help save people, their families, and health providers, hours or months to find out what might help them.
We scan the world for technology types, products, and providers. and match them to top conditions, symptoms, and progressions, to understand needs people may have. eg someone with Dementia may have challenges with memory, medication, communication, home safety, mobility, isolation etc..
We can not ensure products will meet personalised needs. Our intelligent algorithm assesses according to the following factors (not all of which are relevant for every product).
We've chosen these products carefully, based on a range of factors, including:
thousands of hours scanning and assessing the world's health, home, and assistive technology from hundreds of sources,
data from the stories and priorities of tens of thousands of visits to our community, and
input from health professionals and research data on the conditions and needs, which are largely referenced throughout
We also list selected soon-to-be-released and breakthrough products.
Always read the product information, do your own research, and contact the supplier for more information. These devices should not be considered life-saving devices. Always follow the advice of your medical professional, and contact your doctor, visit a hospital, or seek help if you have symptoms.
There's no replacement for spending time with those we love. Technology will not replace the care, empathy, or laughter of being together; nor the care and experience of health professionals and carers.
Talk about what's important and what you're hoping to get help with. It may be that you want to stay home and reassure the family that they can check-in if needed. It may be wanting to exercise but being unsure of a condition, or recently out of the hospital. The goal is, to want what the technology gives you.
See Also
Collection: Memory Loss & Independence Taking Care of Family
Story: Helping Parents with Dementia, through technology - Video
Article: 3 Ways to Help Aging Parents with Technology
Visual Story: Getting Older, Health Insights
Website: helloEd
We'd love to hear your stories, and feedback, and welcome you to get in touch with us with requests, questions or to chat.
0