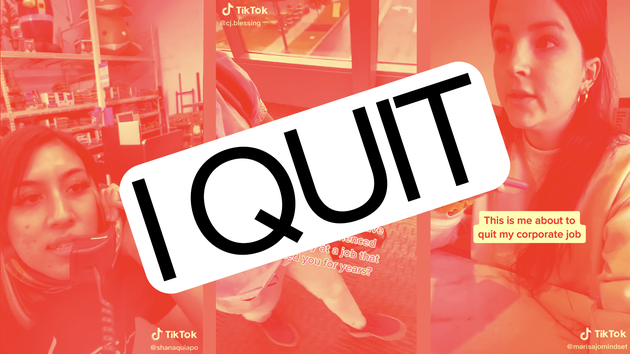 Traditionally, the only people who know how you quit your job are you, your boss and maybe a representative from human resources. If you go by the book, your resignation notice ― along with what you say and do on your way out ― typically stays within the company.
But as record-high numbers of workers quit during the pandemic, people increasingly went public with their exits, posting their resignation notices on restaurant signs or posting the moment they quit on TikTok for all to see and share.
Shana Blackwell, a Walmart night stocker who quit in October 2020 after more than a year on the job, used her store's intercom system to broadcast her exit to everyone in the building.
Blackwell, then 19, had reached a breaking point with her draining, physically demanding job at a store in Lubbock, Texas. She had taken complaints to Walmart, she said, but nothing came of it. She was initially prepared to quit calmly to a manager, but none were unavailable to have a conversation. A truck shipment had come late, and managers were yelling at the team "as if it was our fault," she said.
"I was angered. That day, it gave me PTSD of the whole year and a half I had spent there. So not only was that day making me mad and frustrated and all these emotions, I was reminiscing on the past and how that manager was yelling at me now, and two months ago he was yelling at me, the day that I got hired he was yelling at me, and it's been hell ever since I got here," Blackwell told HuffPost. "I guess that's what led me to going to one of those phones and dialing the number to make my voice heard all over the store."
"Attention all Walmart shoppers, associates, and managers," she announced before proceeding to call out co-workers by name for being "racist," "stinky," and "lazy." She referred to employees in one section of the store as "perverts" she hopes don't "talk to your daughters the way you talk to me."
She thanked another colleague for getting her the job when she needed it, and ended with a resounding "Fuck the managers, fuck this company, fuck this position... I fucking quit."