A good flower arrangement also needs a good flower arrangement tool. Beautiful flowers also require floral supplies to pack, prune and nurture. As a floral supplies supplier with 23 years of experience, today we will provide you with the relevant knowledge of wholesale floral supplies from China. This guide is for floral supplies wholesalers, florists, home decoration importers, etc.
To wholesale floral supplies from China, you first need to understand the general classification of flower supplies.
1. Common Types of Floral Supplies
1) Tools & Accessories
· Flower knife
A must-have tool for professional florists for cutting flower branches. A good flower knife can reduce the damage to the plant's conducting tissue when pruning, so that the flowers can last longer.
There are also many types of flower knives. In addition to the knives used for trimming flower branches, there are also knives specially used for cutting flower mud.
· Floral scissors
This is a very large category. There are scissors specially used for trimming flower branches and plant branches, which are more suitable for beginners than the flower knives mentioned above. In addition, there are scissors specially used for pruning garden plants, scissors specially used for cutting ribbons and packaging bags, and scissors for florists, specializing in cutting wire for modeling.
· Flower glue, craft glue and tape
Usually used to assist in making shapes and fixing materials. For example, some waterproof tape can be used to fix the wet flower mud in the floral container. There are also floral cold glues specially used for pasting plants, and others such as transparent glue, hot melt glue, and double-sided tape.
· Floral wire
Used to fix flowers and make shapes.
· Lunge pliers
It is specially used to remove thorns from flowers, such as roses, roses, etc.
· Stapler
It is mostly used in flower packaging to fix packaging and materials.
2) Flower Packaging
· Ribbon
For decoration and tying of bouquets. Mainly ribbons, twine, deerskin rope, cable ties.
· Packaging supplies
Mainly products such as wrapping paper, wrapping cloth, and wrapping boxes. Whether it is a flower shop or a home decoration customer, flower packaging is an important category when it comes to wholesale floral supplies.
3) Flower Cultivation
· Floral foam / flower mud
There are two main functions of flower mud, one is to retain water for the bouquet, and the other is to play a role in fixing.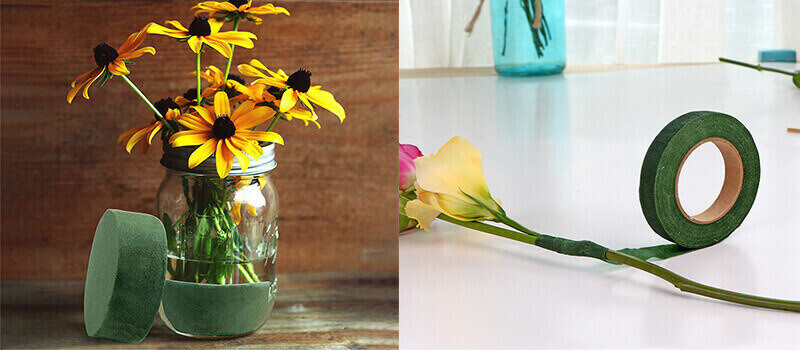 4) Flower Containers
· Vases and flower pots
These two categories are important auxiliary supplies for flower shops, which can be used to decorate flowers or plants. Unique vases and pots can grab your customers' attention faster. In addition, they are also an indispensable category for home decoration importers. When people arrange flower arrangements, they all want unique and suitable containers to match, and the market demand is large. Every year, many customers wholesale flower containers from us.
· Flower basket, flower box, flower bag
This type of flower container is more suitable for occasions when giving gifts to others. Beautiful flowers paired with a beautiful flower box or basket, who wouldn't love this gift?
These are the main types of floral supplies. You can choose floral supplies to wholesale according to your needs. Different types of customers have different priorities. Flower shops and professional floral supplies wholesalers are more inclined to wholesale flower packaging and tool products; home decoration importers may be more inclined to wholesale vases, flower pots, and artificial flowers.
We have written other blogs related to floral supplies before, if you are interested, you can go to read:
China Wholesale Vase Guide
China Wholesale Artificial Flower Guide
2. How to Wholesale Floral Supplies from China
1) Wholesale Floral Supplies from China Online
You can use Google search to find floral supplies suppliers or products, enter the key words, such as: China wholesale floral supplies, China wholesale floral packaging, China wholesale vase, etc., you can find many flower supplies suppliers. You can also find products and suppliers through Chinese wholesale platforms, such as: Alibaba, Made in China, 1688, etc. In addition, some China floral supplies suppliers will also promote on social media, you can also pay attention when browsing social media.
2) Wholesale Floral Supplies from China Offline
If you can come to China, you can go to China wholesale markets or exhibitions to find reliable flower supplies suppliers, communicate with them face-to-face, and choose suitable products. Or visit their company directly, you can see their size and strength more intuitively, but this will be relatively time-consuming. Compared with online methods, more products can be found offline, because many suppliers will avoid uploading new products online in order to prevent plagiarism from their peers.
From the current form, we still recommend that buyers use online methods to wholesale floral supplies from China. Because visiting China now may face at least 14 days of quarantine. If your country is in a high risk area, the quarantine time may be longer, wasting a lot of cost and time.
If you want to find both online and offline floral supplies and expand your product selection, you can contact us. As a professional China home decoration supplier, we have a huge range of home decoration products, including floral supplies. Besides our existing styles, we can also help you find more latest flower supplies from other factories, Yiwu market, etc.
3. Popular Floral Supplies 2022
1) Velvet flower box
A very textured flower box, choose some flowers of the same color according to the color of the flower box, and then embellish some white flowers and low-saturation plants, the whole flower box looks very advanced. It is very suitable to give to others on some special occasions, such as birthdays, Christmas, weddings, etc. If you want to wholesale floral supplies, consider this style.
2) Ins wind portable paper box
The portable paper box that has been popular on ins this year is simple but generous in style. There is a feeling that the bouquet grows out of the box, which is very full of vitality. And there are many choices of color types and sizes, suitable for various occasions.
3) Classic solid color wrapping paper with gauze
The classic pairing never goes out of style. As a professional supplier of floral supplies in China, we can tell you responsibly that solid color wrapping paper with gauze and ribbons are the best-selling products every year, but there will be some updates and changes in the styles every year. Adapting to different trends every year, you can have a lot of choices when wholesale such flower packaging. For example, some wrapping paper will have laser effect, some will have pearl effect, and some will be pure matt. In short, you can combine the selection of hot trends in your local country.
End
In addition to the above popular trends, kraft paper wrapping paper, human face flower pots, etc. are also very popular in the past two years. Here, we can meet all your floral supplies wholesale needs, you can easily find the best selling products in your country. Many of our long-term cooperation clients have expanded their businesses. Contact us to get new floral supplies quote now.
0