A successful voice of customer program (VoC) strategy needs a full-scale VoC program implementation. Let's explore and understand the various stages of the VoC program implementation.
What is Voice of the Customer?
Put simply, VoC is the attitudes, thoughts, and beliefs that your customer base holds about your brand or product. It is important not to confuse this with customer feedback, which is a direct source that constitutes just one color within the VoC spectrum. Other direct sources would include user surveys, call center recordings, and email or chat data. Indirect sources and inferred data can also prove highly instructive – more on those informational sources below.
How Can We Devise A Successful VoC Strategy?
There are seven steps towards devising and implementing a VoC strategy. Let's summarize these and then look a little deeper into each stage: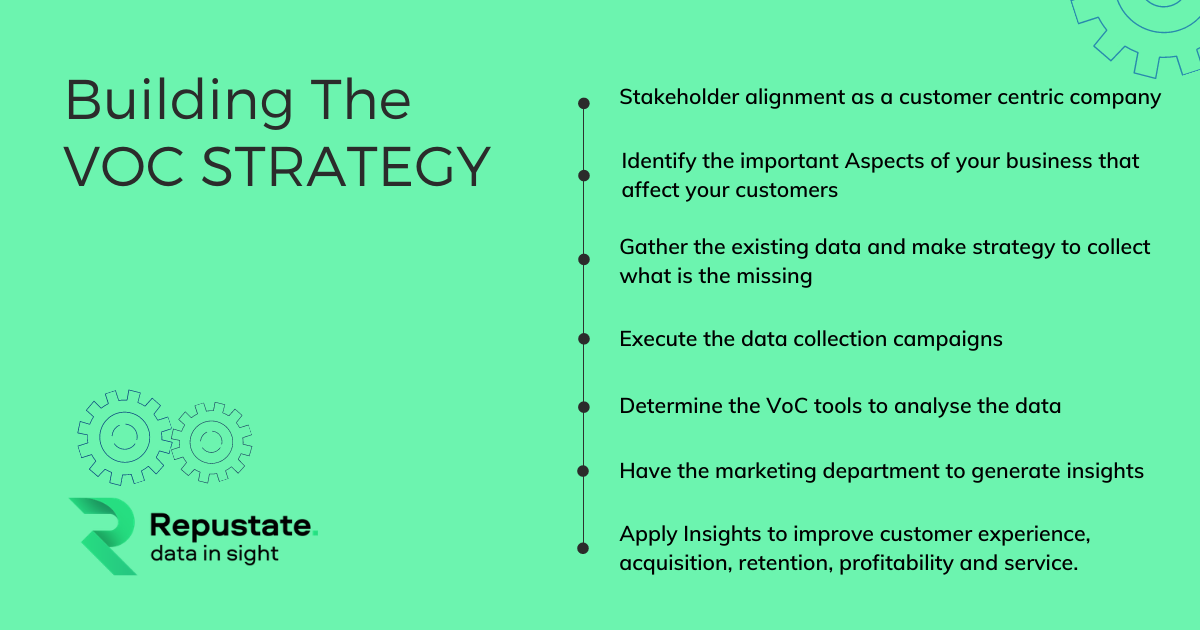 Establish Full Stakeholder Alignment
Getting to know your customer base must be an approved and understood goal for your company. You will need corporate buy-in to implement some of the technologies required and make the appropriate investment. Also, you are trying to create a customer-focused company, which may entail a shift in corporate philosophy, which necessarily involves everyone from the CEO to the intern.
This process cannot just be farmed out to your sales or marketing team – it must be integrated within a broad-base analysis of who your customers are. Since this can inform R&D, sales, marketing, product design, logistics and more, the whole company will benefit from your voice of the customer plan. Getting senior management on board early will help with a successful roll-out of your VoC program.
Establish Customer Themes
Either from previous VoC rounds, or from already understood customer feedback, it's important to focus your VoC efforts by identifying the common themes in customer feedback. Examples of themes might include concern over your pricing strategies, a desire for product line expansion, an interest in service personalization, a desire for new methods of payment et cetera.
It may be that different themes emerge from your VoC investigations, but it's a good idea to have a shortlist to begin with. This is so you can align corporate objectives with them and inform the current process.
Audit Data Provision
Do you already possess the information you need to interrogate customer opinion using tools such as text analysis, sentiment analysis and more? It's likely that you already have some of what you need including:
Reviews on your ecommerce platforms and sites
Customer feedback emails and text chat transcriptions
Support call transcripts
Voice of the Customer survey
However, as well as these direct sources, you should also consider indirect and inferred sources of information too. These might include:
Indirect – external consumer review sites, customer forums, competitor sites
Inferred – lead pipeline data, sales statistics, post-sales behavior
Based on what themes and topics you're exploring, you may want to push resources towards obtaining more information from these primary and secondary sources. For this, you can use data scraping, additional surveying, focus groups and other methods.
Create Programs for Additional Data Capture
Now that you know what you're missing, you can devise strategies to obtain it. You'll need to task teams or individuals to perform this data capture, using appropriate manual or technological methods. For instance, your sales team will be able to provide key information about the lead-to-sales pipeline, and your support department can assist with the additional surveying of customer experiences.
You will probably have to create a VoC research team to obtain data not currently held in-house. This can be a time and resource-consuming task, so should not be left for employees to fit around their everyday roles. In terms of the usefulness of the data obtained, more is always better.
Benefits of VoC Analysis
VoC tells you the raw, unfiltered truth about what customers really feel. This makes it hard to argue with and consequently, a convincing tool with which to motivate change within your company. VoC doesn't rely on self-selecting users, so it cannot be skewed in favor of or against your brand. You'll be able to gather a broad spectrum of honest responses.
Here's what you might do with it:
Understand better whether your marketing strategies are working, and how to change them to better reach potential customers.
Improve product offerings by listening to concrete customer feedback.
Use VoC for piloting new products before you commit to a full rollout.
Increase sales by targeting campaigns more directly at expressed customer needs.
See how your brand compares with your competitors, with honest comparison data.
0