Are you looking to get t-shirt printing done for a business promotion event? Or do you want to get garment printing done for a small family function? Whatever the reason for your need for printed garments, you will soon be considering the question of what printing technique to choose for your purpose.
Over the years many new printing techniques have evolved for different materials and surfaces. In this blog, we are going to look at the two most used printing techniques for garments – screen printing and DTG printing. Let us look at the unique aspects of each method so you can decide which is best suited for your needs.
What is Screen Printing?
Let us look at the pros and cons of this printing method for garments so you can decide whether this is the method for you or not.
Pros
Screen printing for garments is cost-effective for bulk orders. So, if you are looking at getting a large number of t-shirts printed for an event, screen printing is the best option.
It works well for bold designs without too many details and colors. Graphic designs with basic typography and shapes are ideal for screen printing.
T-shirt printing done using this technique is of high quality and is durable.
Cons
Avoid screen printing if your design is intricate and has many colors. This will translate into more layers and screens. This will be time-consuming and expensive, and will make the printed part of the fabric thick.
It is an expensive method to be used for small runs. Due to this and the above reason it's not the ideal choice if you need to experiment with designs.
Since screen printing is cost-effective only for bulk orders, businesses tend to print more garments than they need leading to wastage. Extra clothing items find their way to landfills and hence, this is not a sustainable method.
Screen printing of fabric also consumes a lot of water and uses a type of ink that is not biodegradable. Thus, it is not a very eco-friendly technique of printing.
What is DTG Printing?
DTG or Direct-to-garment printing is similar to inkjet printing done by home printers. It involves ink being sprayed onto the fabric and the ink is absorbed fully by the fabric. Prior to printing, the garment is treated with a solution that helps the ink to bond with the garment material. It is best suited for garments made of cotton and cotton blends. To avoid cracking and fading of the printed garment, use a gentle wash cycle, avoid using bleach on them, and do not iron directly over the printed portion.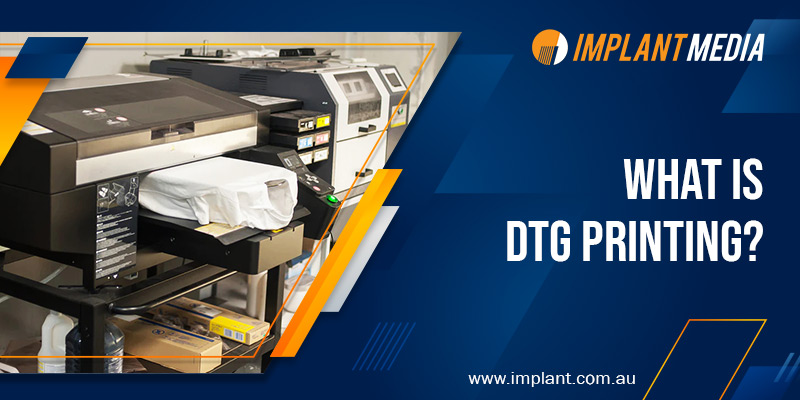 What are the Pros and Cons of DTG Printing?
We list some of the pros and cons of DTG printing so you can compare it with screen printing and make your choice.
Pros
There is no elaborate setup required for this method. This makes it ideal for small runs. So, if you have a small order or want to experiment with different designs, go for DTG printing.
If your graphic design is intricate and has many elements and colors, then this technique is ideal for you. You don't need to use software to create layers for the printer. You just have to design and send the design to the printer and the t-shirt printing will be done.
The DTG method of printing is more sustainable as you can get fabric printed as per demand and avoid wastage. The technique has also evolved to use less water and energy making it more environment-friendly than other methods.
Cons
Fabric printed using DTG method can sometimes appear less vivid than screen printed garments. You get more saturated colors with screen printing than with the DTG method.
You should avoid elements in your design that are transparent or not 100% opaque. These don't translate well on fabric with DTG printing and can leave gaps in your final printed garment.
Wrapping Up
So, which one should you choose – screen printing or DTG printing? There are many outfits offering both techniques of garment printing in Australia. But the final choice will depend on factors like the complexity of the design, your budget, the volume of your order, and the purpose of printing like alignment with brand image, etc. We have seen the advantages and limitations of both techniques, so the choice boils down to your requirements.
Whichever method you opt for, you need a high-quality garment printer in Australia to get value for your money. The team at Implant Media has just the right combination of experience and innovation to deliver your printing needs without breaking your budget.
Our catalog has a huge range of garments to choose from for printing and which will perfectly suit your need for an event, promotion, or business. We are also flexible with exploring options that may not be listed in our brochure. Our efficient team ensures you get your order for printed clothes within the promised timeline, and we can also accommodate urgent requests.
0