Are you a startup founder, an investor, or an entrepreneur that wants to create a product? Or are you in a position where you hire a software development team?
If you gave a positive answer to any of these questions, read this article.
You will learn the following:
What is a dedicated development team?
What is the typical structure for a dedicated development team?
What are the advantages and disadvantages of hiring a dedicated development team?
How does a dedicated software development team work?
When you shouldn't hire a dedicated development team?
And more!
If you prefer visual to text, then go straight to the bonus infographic "What is a dedicated development team?"
Let's dive into the crux of this article.
What Is a Dedicated Development Team?
A dedicated development team is an outsourcing concept where developers cooperate with a startup to achieve agreed deliverables. This staff outsourcing model is one of the most popular and effective for tech startups.
Statistics by Avasant Research prove the relevance of this business model, as over 10% of most startups' IT budget goes to outsourcing.
By collaborating with a development team, you're requesting professionals to fill a knowledge gap in your startup. Albeit similar to in-house developers, you're exempted from catering to their tax, HR, and administrative needs. This enables you to focus better on business issues while the development agency helps with your technical requirements.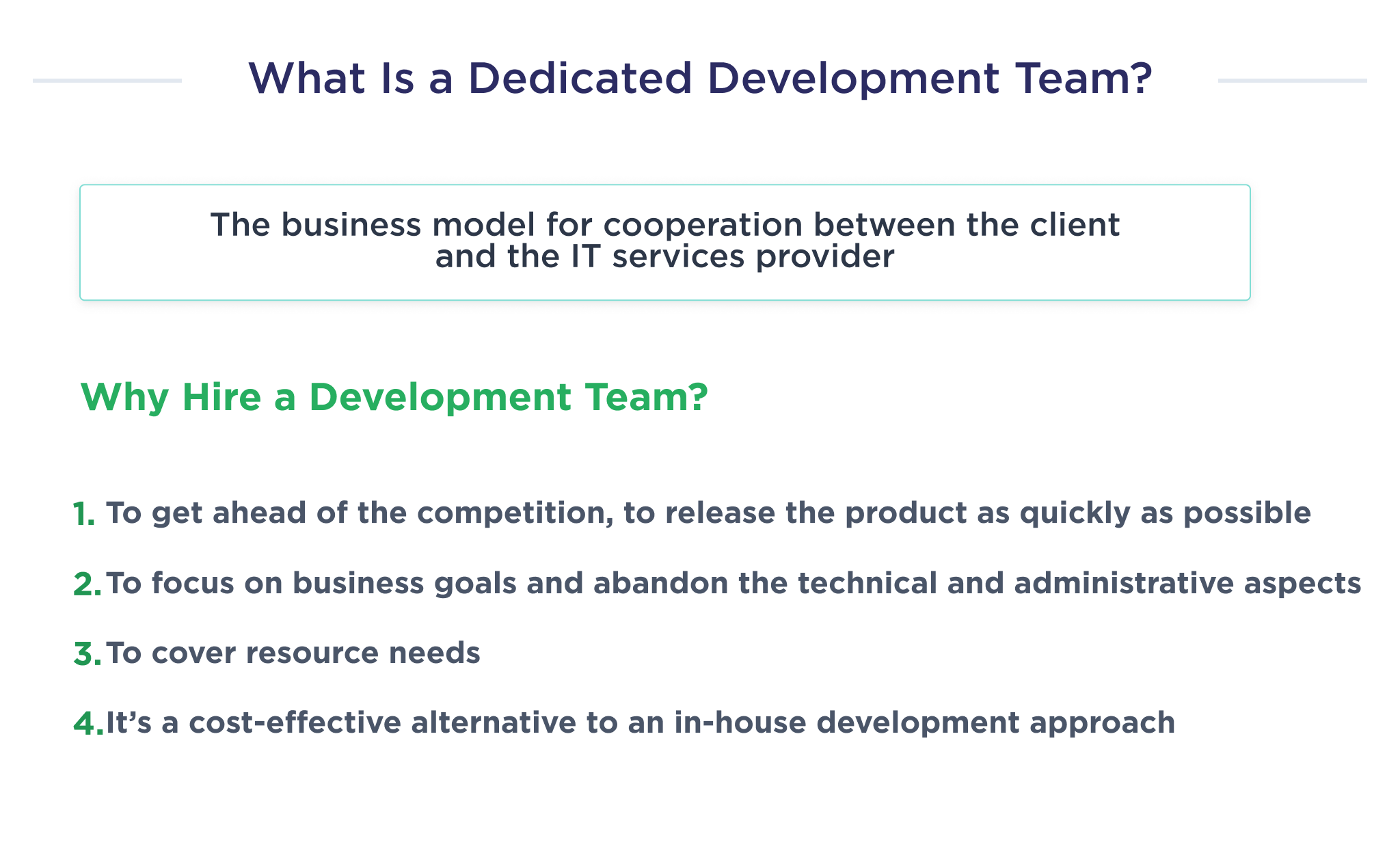 With the apt knowledge that you have about the development team, let's discuss a suited structure.
What is the Typical Structure of a Dedicated Development Team?
Your technical requirements determine the composition of your team of developers. An ideal one for an application development project includes:
Product manager
Project manager
Business analyst
UX/UI designer
Tech lead
Backend developer
Frontend developer
Mobile developer
Quality assurance tester
DevOps engineer
If you're venturing into the tech business, chances are high that you don't know what each job description means. Let's help you make sense of what each means.
Role Description Product managerThe product manager defines the needs of your target audience and the company's business objectives that the product will address.Then, he or she handles the implementation and launch of features.
Project managerThe project manager's job is to coordinate the team to finish the project according to the delivery plan, on time, and on budget.In addition, the PM is responsible for communicating with the client and managing expectations according to Agile management practices.
Business analystThe task of a business analyst on a dedicated team is to create requirements for a future solution. Often, these are textual requirements detailing the logic and basic user experience, which are further refined by the designers.UX / UI designerThe primary role of a UI/UX designer entails collecting, researching, and evaluating technical requirements.They then create a visual design that appropriately represents both the technical and business requirements of the platform.
Tech leadHe or she leads frontend, backend, or mobile development teams: designating and overseeing the implementation of the development process, defining the technologies' stack, and troubleshooting technical issues.Backend developerThe backend developer creates and maintains the technology necessary for the user-facing application to exist on the server-side interaction.The backend code adds utility to everything the front-end developer creates.
Frontend developerThe frontend developer implements the design of the UX/UI designer and ensures users can appropriately interact with the platform.Mobile developerMobile developers do the same job as frontend developers, but for mobile apps. In essence, they are responsible for making the interface work properly and interacting with the database on the backend to make the app work.Quality assurance testerThe QA engineer checks the performance of the application as required and suggests workflow improvements on the code, business logic, or UI design side.Also, he or she checks the code for bugs and ensures that the code is written correctly to ensure efficiency and a great user experience.
DevOps engineerThis type of software engineer build, test, and maintain the infrastructure and tools needed for rapid software development and launch.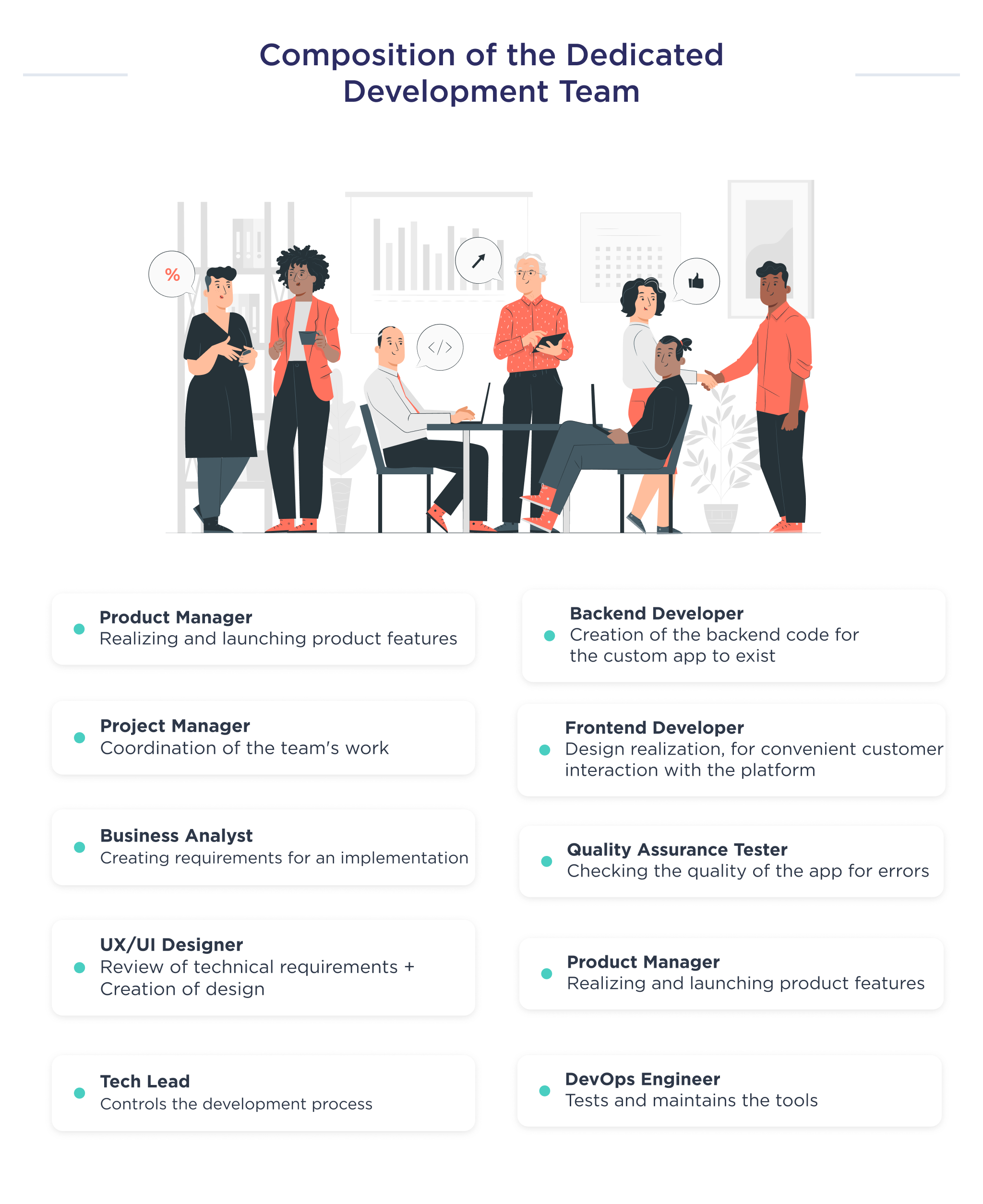 Now that you understand how to onboard team members on to your startup, let's discuss the advantages of this method.
Advantages of Hiring a Dedicated Development Team
According to Grandview Research, the global demand for development outsourcing is poised to grow 7.7% year on year from 2021 to 2027. If this happens, the sector's revenue will be worth $937 billion in six years.
This growth is fueled by numerous advantages of hiring a dedicated team for your software development project. Some include:
Benefit 1. Expertise
Outsourcing the technical aspect of your company's operation opens your startup to professionals with the requisite expertise to develop your product to optimum satisfaction.
Most times, these professionals have already worked on a similar product, so they can offer you helpful advice and help you take advantage of minor details.
Through years of teamwork, the dedicated team already has an established workflow and is comfortable with task delegation.
You won't have to do this from scratch and deal with conflicts that may arise.
Benefit 2. Access to a Larger Pool of Talent
If you lack access to a talent pool for your in-house team, then a dedicated team model is undoubtedly the way to go.
This option opens your startup up to a pool of professionals across the globe, allowing you to choose the best hands possible at a cost-effective price.
Numerous companies have enjoyed this benefit: some examples include Google, Skype, IBM, and other well-known technology companies.
Benefit 3. Faster Scalability and Flexibility
Outsourcing affords you top-notch flexibility in actualizing your project scope. It eases the process of reducing or increasing your team size at will without breaking employment laws. This flexibility is intrinsic to responding to changing business needs.
On the other hand, increasing your in-house team is pretty daunting, costs more, and is time-consuming. Reducing your in-house team size without a staff dignifying reason may affect your workers' morale and significantly impact their productivity.
Besides, it can also dampen your company's reputation as an employer.
Benefit 4. Cost Saving
Hiring a remote team for many US-based startups is a cost-efficient option, especially for both long-term projects. This is primarily because the cost of hiring developers varies with the country.
Asthis article on software development costs puts it, the US-based startup will spend $100-$150 an hour on a local software developer, but outsourcing to a dedicated development team in Ukraine only costs $40-$80. This helps to save up to $110 an hour.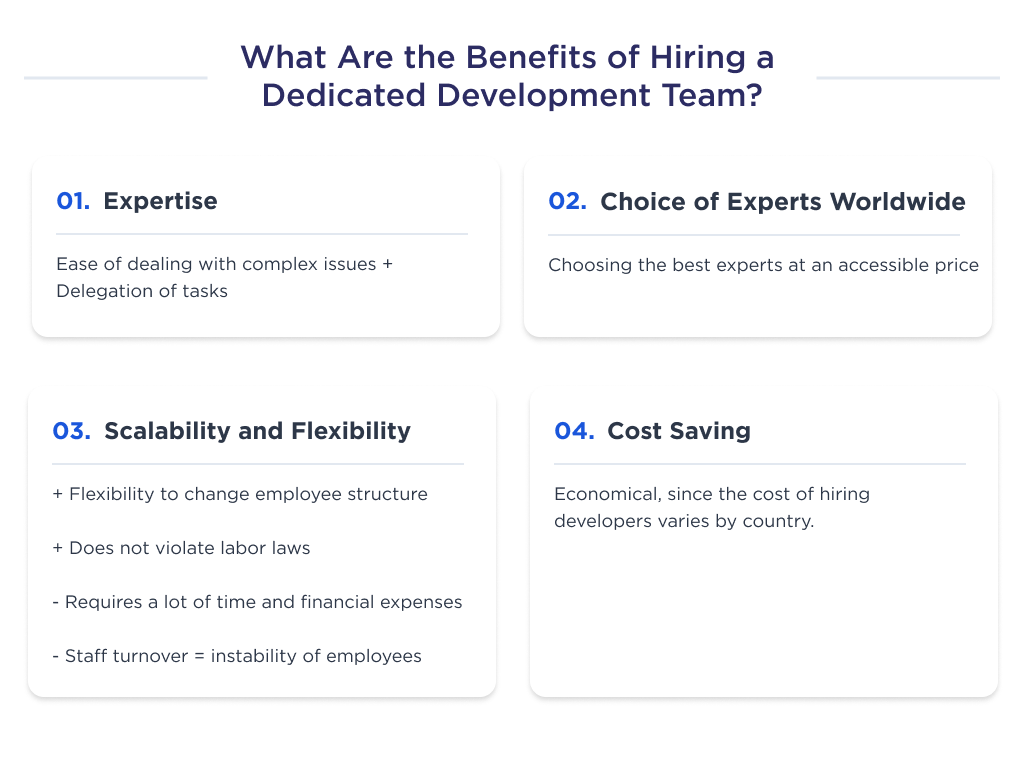 However, this business model also has its demerits to consider. Here are some disadvantages to remote outsourcing.
Disadvantages of Hiring a Dedicated Development Team
Outsourcing to software service providers has its drawbacks. Some of these include poor communication, time-zone differences, cultural differences, and so on. Let's elaborate further.
Disadvantage 1. Too Many Vendors to Choose From
Deciding to hire a DDT opens you to another challenge. You'll have to choose a web development team that best aligns with your business goal, but that in itself is tricky. Startups can choose from a local team or outsource to an agency completely domiciled in another nation.
Read more about dedicated development team here
0